Hello, Belleair neighbors and prospective home sellers! I'm thrilled to share with you the latest insights on the local real estate market. As your go-to real estate expert in Belleair, I'm here to guide you through the market trends and give you a clear picture of what's happening in our beautiful town.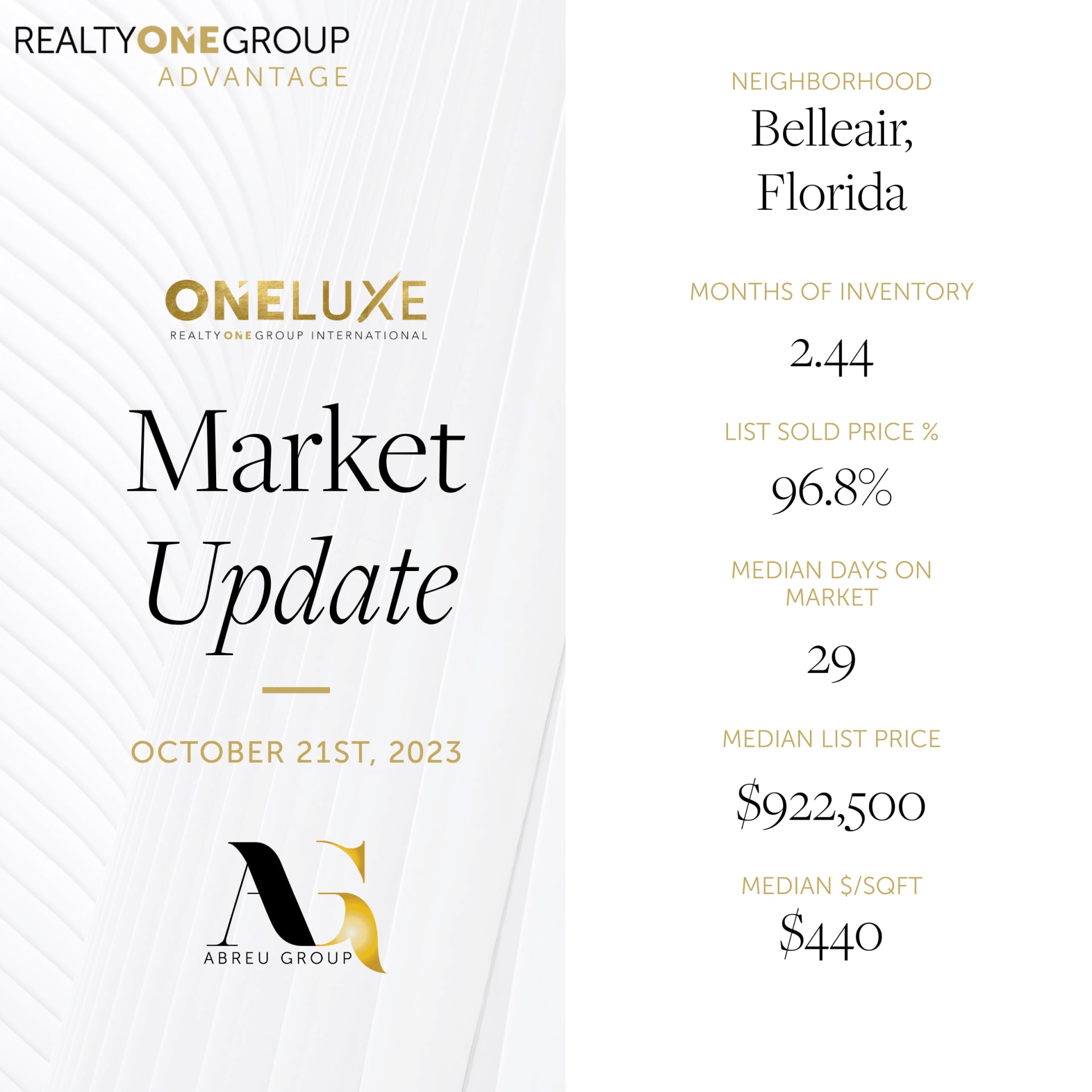 Inventory: Sellers Still Hold the Reins
In the ever-evolving world of real estate, inventory is a critical factor. While many places have seen a rise in inventory, Belleair stands out. We currently have just 2.44 months of inventory. What does this mean for you as a seller? It means that, despite the broader trends in the real estate market, Belleair remains a place where sellers are in the driver's seat. The scarcity of available properties puts sellers in a strong position to set the terms.
Home Values on the Rise
One of the most exciting aspects of Belleair's real estate scene is the increasing home values. The median list price among active listings in Belleair now stands at an impressive $922,500. In the last month alone, home values have surged by an estimated 1.6%, and over the past year, they've witnessed a remarkable 6.5% increase. This consistent growth means your investment in a Belleair property is likely to appreciate steadily.
Median Days on Market: Quick Sales Indicate Strong Demand
The median days on market is a crucial indicator, reflecting how quickly homes are selling. In Belleair, this figure currently sits at just 29 days. That's excellent news for sellers, as it suggests a robust demand for properties. However, it's worth noting that individual factors, such as the location, condition, and pricing of your home, can also influence the time it takes to close a deal.
Sold Price Percentage: Sellers Rejoice!
Sellers in Belleair have another reason to rejoice - the sold price percentage currently stands at an impressive 96.8%. This high percentage indicates that sellers typically negotiate a price very close to their original asking price. In simpler terms, buyers are showing a willingness to pay a significant portion of the listed price. For sellers, this is music to your ears, as it increases your chances of achieving the price you desire.
With these remarkable market trends in Belleair, now is an excellent time to consider selling your property. Whether you're looking to upgrade, downsize, or explore new opportunities, the current market conditions are in your favor.
At the Abreu Group, we specialize in Belleair real estate and have a track record of helping sellers achieve their real estate goals. Our experienced team can provide you with personalized guidance and ensure your property is showcased to its full potential, maximizing its market value.
If you're thinking about selling your home or would like more information about the Belleair real estate market, don't hesitate to reach out to us. We're here to assist you every step of the way. Make your move now and contact the Abreu Group for all your real estate needs. Your dream sale is just around the corner!